Todocristal frameless glazing system : Status and Cruiser Series
Our Frameless Glazing Systems, Status Series and Cruiser Series, both have the same quality and excellence. Your choice will depend on the preferences and needs of each project. Both will provide any installation with security, resistance, luminosity, energy savings and great aesthetics.
What is the difference between them ?
Its main difference is that the Cruiser Series has bearings in the bottom profile. This will allow sliding heavier panels, admitting the use of Glass-Chamber type glass with a thickness of 22 mm. While the Status Series lacks bearings, it will be more suitable for curved areas, for example.
Great Versatility and Customization
Both can be installed on any type of surface with embedded rail, at different heights, with double or single doors... Practically any configuration is possible. No matter what the space is like, we adapt 100%. In addition, on porches it is possible to install a sliding door (a panel that performs the functions of a door, but moves like the rest).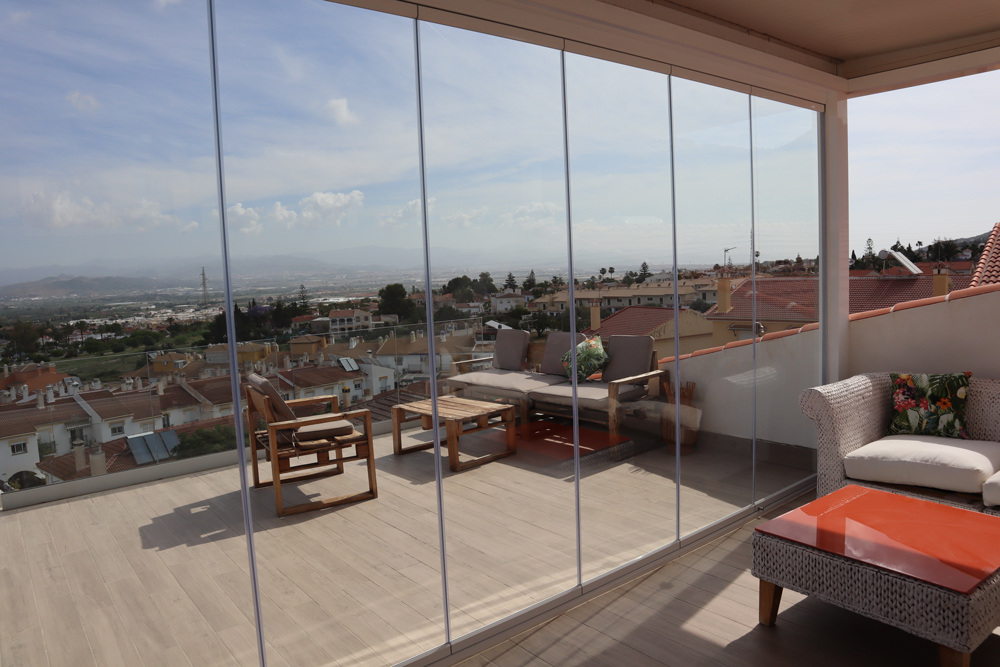 Cruiser Series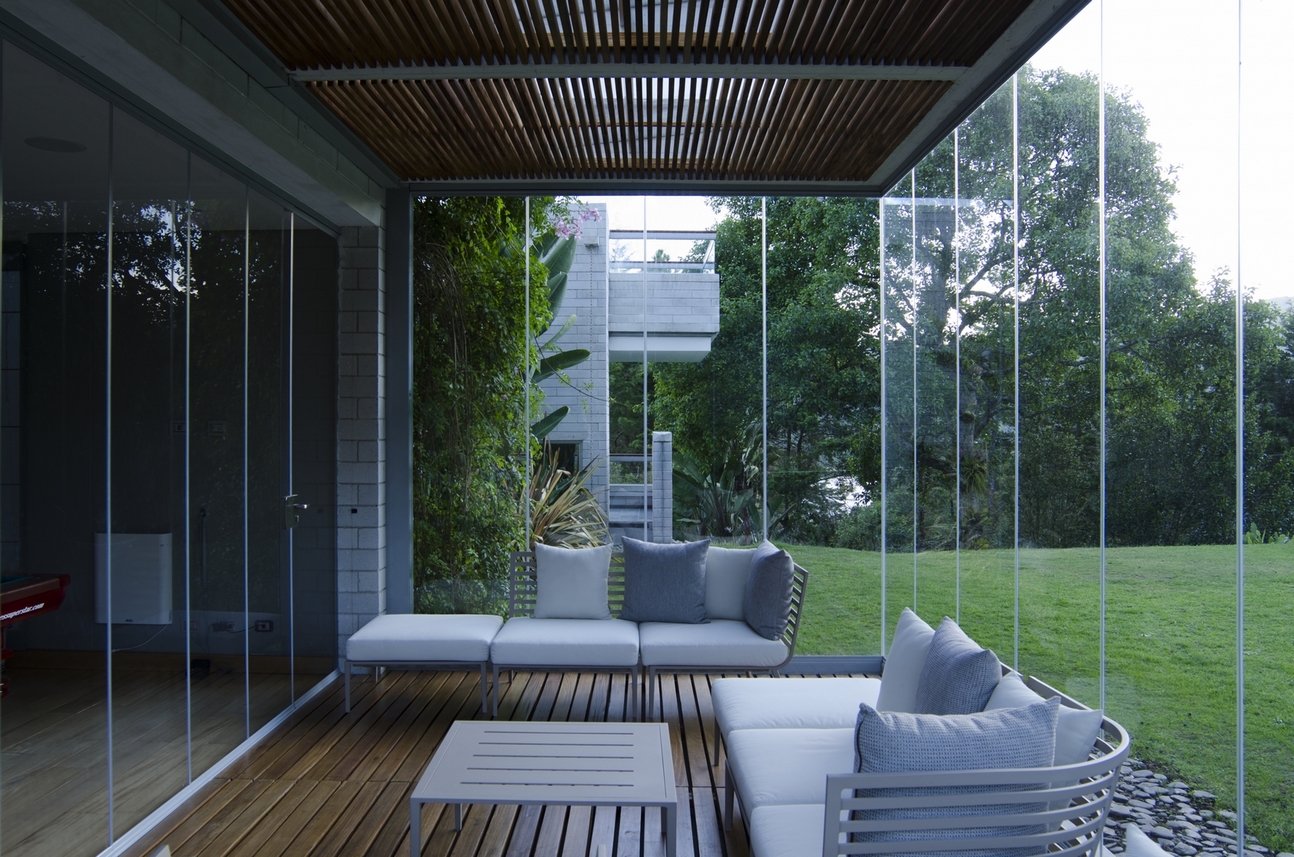 Status Series
The most insulating system
It is the most aesthetic, safe and insulating system in the market, resistant to heavy rains and humidity. The bottom track includes a drain to evacuate the water produced by condensation.
Without maintenance
The maintenance of our systems is practically non-existent, it will consist of keeping the tracks clean. Operating by sliding, there is hardly any wear on the system components and maintenance is practically non-existent.
Maximum customization
We adapt to any kind of porch or terrace. Our product is one of the most versatile and adaptable on the market. Our technical department will help you out finding the best solution for your project. The needs of your project and preferences will be the determining point to choose between Status and Cruiser.
Energy savings
One of the most insulating system, highly energy efficient; you can save more than a 10% in your energy bill. Our system has no vertical profiles so you will get very clear views.
Glass choice
In Status, 6, 8, 10 and 12mm glasses can be used. We can market up to 12 mm thick glass because all the weight of the panels falls on the bottom guide, they are not suspended. In Cruiser, 10 mm glasses can be used, and also, of the Glass - Chamber type of up to 22 mm, as they have bearings in the bottom profile.
Fast service
Personal, fast and efficient sales and post-sales service. We take into consideration our clients comments and concerns to constantly improve our system and processes.
Bottom weight
The system weight is supported on the floor, which increases the safety and insulation. It also ease the installation and allows the installation under any kind of system.
More resistant
Our glazing system has proved to be the most resistant, thanks to the wear tests, water-tightness, salty fog resistance, vertical load and pieces aging tests, with excellent results.
Technical details
Features
Stress tests
Advantages
Aluminum-made system

Laminated and laminated tempered glass.

Finishing and lacquered in all RAL colors, wood design and anodized.

Standard system with opening arm and elegant methacrylate handle. We also have available a system without arm.

Vent position (available for system with arm), that blocks the door and allows to slide slightly the panels to vent and avoid condensation.

Different locking system to improve safety.

Large surfaces: our system allows up to 14 panels per door.

Doors in one side, both sides, in the corners or in the middle (sliding door), than can be opened either inwards, outwards and in both directions at the same time.

Bottom track embedded on the floor or on the surface, in the wall or the ceiling, with or without leveling profile. In system with the bottom track embedded in the floor you can still drain water.

Panels go through corners from 90º to 270º.

90º doorstops, suitable for installations that do not end against a wall.
Wearing test: the sliding pieces do not suffered wearing after 27.290 slides, equivalent to 37 years of use.
Water tests: resistant to heavy rains. The bottom profile has a special slot that collects any small water infiltration.
Pieces aging test: glass do not change their color when exposed to high temperatures.
Salt fog test: proved resistance to weather variations and salt fog.
Vertical load test: vertical panels can support up to 80 kg without damaging the structure.
Glass panels without vertical profiles not obstructing the views.

Suitable to be installed under false ceiling, since our panels are not hanging from the ceiling but supported on the floor.

Possibility of opening the panels outwards, for a complete use of the space.

No need for building works for installing.

System without bearings, it slides through high resistance surface, which diminish the wear.

Very low maintenance.

5 years warranty.

We adapt to any king of house or business, whatever shape they have.

Custom glazing system (type of glass, color, locks, etc.).

Acoustic insulation.

Protection from wind, dirt and low temperatures.

Resistant to shocks, heavy rains, corrosion and salt fog.

It includes a drainage to collect and evacuate the condensation water.

Energy savings since it allows the natural light into the building.

Clear views all year long and a safe and elegant environment.

Get more living space in your terrace or porch without altering your building façade.

Panels are stacked aside when opened, taking up very little space.
More information about the Todocristal glazing system
Discover all the additional features